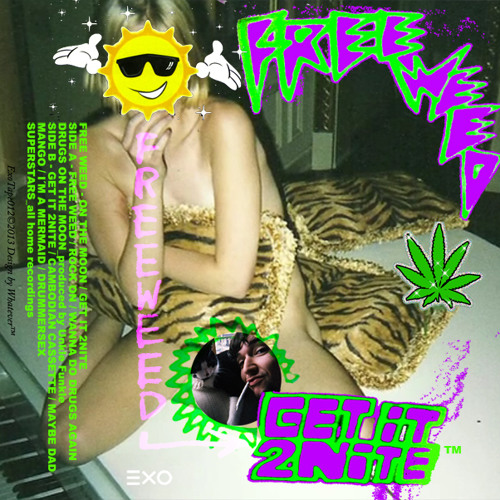 Free Weed // On the Moon / Get It 2Nite
The only thing Erik Gage, the ultimate musical savant burnout, does more than smoke weed is record music. He records as or with The Memories, White Fang, and Free Weed and his output is… hefty. As Free Weed, Erik has bounced around from tape label to tape label for all of his various releases. In addition to releasing stuff through Gnar Tapes (his own label), he has also put out tapes through Lillerne Tapes, Beer On the Rug, Burger Records, and now Exo Tapes as well. See what I mean? 
His latest release, the double-EP On the Moon / Get It 2Nite, is not only the most conventional release that Exo has ever put out, but it's also a step up in Free Weed's songwriting. The two halves certainly have their own flavors but they are brought together under Erik's personal mantra as heard on "I Wanna Do Drugs Again" when he sings "Take me home. Get me stoned." It might seem a bit single-minded unless you are looking at it as a tongue-in-cheek commentary on marijuana culture. Yes, I'm sure that Erik loves smoking weed. Probably a lot. But do I think that it is literally all he does as his songs would have you believe? No. So with that in mind, have a listen to this goofy release, bop your head to the catchy melodies, but don't take it too seriously. Lord know he doesn't.
…
---
04/05/13
at 02:26pm via
blog comments powered by

Disqus